If you're a parent, chances are you've heard of the Diary of a Wimpy Kid book series from Jeff Kinney. There've been seven books in the series so far, along with a handful of live-action movies. The series tells the story of Greg Heffley, who's just an average kid trying to make his way through middle school, while dealing with his older brother Roderick and younger brother Manny.
The series is written in a first-person style, accompanied by loads of hysterical doodles/comic strips that tie in directly with the story. I recently had a chance to promote the latest book in the series, Diary of a Wimpy Kid: The Third Wheel through a review and a giveaway on Mommy's Busy… Go Ask Daddy. Since my kids are huge fans, I had to say yes.
Jason and Ryan both devoured The Third Wheel and loved it. I figured rather than write a review of the book, instead, I'd interview the two of them to ask them all about the Wimpy Kid series itself!
Diary of a Wimpy Kid Interview with a 2nd and 4th Grader:

1. Which was your favorite Diary of a Wimpy Kid book so far?
Jason: I don't know. I can't pick a favorite. I liked all of them.
Ryan: I only read the first one and The Third Wheel. I loved them both.

2. Who is your favorite Diary of a Wimpy Kid character?

Jason: Greg. Because he's the main character and he's funny.
Ryan: Greg. Because he does funny stuff. Like when Greg and Manny get stuck in a tube like they have at Chuck E Cheese's. And also Greg always wears Roderick's clothes, even his underwear!

3. What do you like about the books?

Ryan: I like that it's written like a diary and there are funny pictures and speech bubbles.

4. Are you going to read all of them?
Jason: Yes. I already did. I'm going to read them all again.
Ryan: Yes!

5. Would you want to be Greg?
Jason: No. His brother beats him up and his little brother does mean stuff to him. His little brother does stuff and then blames Greg.
Ryan: No. Because Roderick beats him up.

6. Who is the weirdest character in the books?
Jason: Rowley. Because he's weird. He likes some girlish singer.
Ryan: Greg. Because he was babysitting a boy and he had to get back in the house and he somehow went into a girl's room of the house he was babysitting. He was so cold he just went into the bed to warm up.

7. Which character do you like the least?

Ryan:Rudy Bird because she looks weird and she bites people.

8. What would you ask Jeff Kinney?
Jason: Can I be in the book?
Ryan:  Can you make more characters besides the same old people?
And there you have it. All I know is my kids keep picking these books up off the shelf, sit down for an hour or so and just crack up non-stop as they skim through each book over and over again. I probably need to sit down and read the series myself sometime.
About The Third Wheel

Love is in the air—but what does that mean for Greg Heffley?

A Valentine's Day dance at Greg's middle school has turned his world upside down. As Greg scrambles to find a date, he's worried he'll be left out in the cold on the big night. His best friend, Rowley, doesn't have any prospects either, but that's a small consolation.

An unexpected twist gives Greg a partner for the dance and leaves Rowley the odd man out. But a lot can happen in one night, and in the end, you never know who's going to be lucky in love.
Diary of a Wimpy Kid: The Third Wheel is on sale at Amazon for just $7 for the hardcover right now! Any of the books in the series would make a great gift for the holidays, though. Or check out this slipcase edition of the first five books!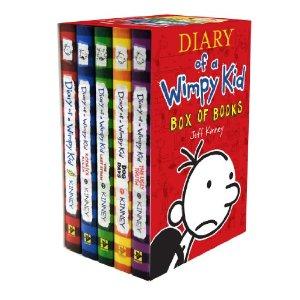 ---
Win a Diary of a Wimpy Kid Book of your choice!
(Choose any of the seven books from the core series: Diary of a Wimpy Kid, Rodrick Rules, The Last Straw, Dog Days, The Ugly Truth, Cabin Fever, or The Third Wheel.)
Use the giveaway widget below to enter:
Giveaway ends on December 10, 2012 at 11:59 p.m. The winner will be chosen at random and announced on this site. Giveaway is open only to legal residents of the fifty (50) United States (including District of Columbia) who are at least eighteen (18) years old at the time of entry. The Winner will be notified by email and has 48 hours to respond or a new winner will be chosen.
I received the featured product in exchange for my honest opinions. The thoughts and opinions expressed in this post are my own and in no way were influenced by the company providing the product.
More Contests & Sweepstakes:
The Sweepstakes Wire™