I'm a big fan of word games. Scrabble's okay but I mean word games you play with a group of people. Something like Taboo (where you describe a word but can't say certain keywords) or even Pictionary (where you can't speak, only draw clues to a word).
Since I've gotten an iPhone, I've played tons of games with my friends around the country thanks to all the turn-based apps. The newest one that I'm thoroughly enjoying is called Listen Up! lite.
Similar to Draw Something (which in turn is similar to Pictionary), Listen Up! teams you up with a partner. You can connect via Facebook or email to partner up. You're then given three words to choose from, of varying skill levels. Pick one of the words and then use the retro-looking recording equipment to describe your word. Yes you can cheat, but what you're supposed to do is make a sound effect for the word.
You have five seconds to record your sounds and you can delete and redo a sound if you'd like. Then your opponent has to guess what word you're trying to describe. Like Hangman, they're given a number of blank lines and a set of potential letters to fill in the blanks. With each successful guess, you gain a microphone, which can be used to "purchase" hints in the game.
When you guess the word correctly, you get a real bright screen telling you of your success! And if you really enjoyed your opponent's sounds you can click the Susie button on the bottom right to nominate the sound so it can be shared with everyone.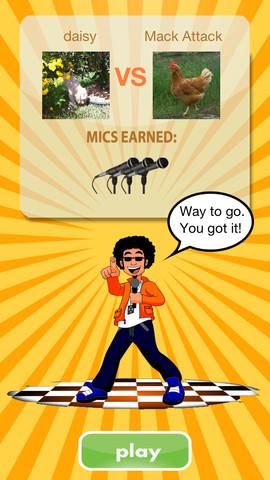 Here's a quick promo further explaining Listen Up!
For someone like me with atrocious drawing skills, this is a great alternative. It's fun to make a variety of sound effects and have someone try to guess what you're describing. I can see my kids enjoying this one too.
What I really need is to get a game going with Larvelle Jones from the Police Academy movies. It'd be a piece of cake to get a high score with him!
I found the game slightly hard at first (mainly because I was thinking too hard about what word could fit in the space, rather than listening to the clue), but I quickly started catching on. I like how it can be a quick, fast-paced game if you like. It only takes 5 seconds to record a sound. But you can also take your time when playing with someone, responding minutes, hours or even a day later if you'd like.
Turn-based games on the phone are great, as you get to play at your own pace. Listen Up! is definitely a refreshing new addition to the group that will have everyone talking.
Listen Up! lite is available for free in the iTunes App Store.
Listen Up! lite (free)
This is a sponsored post. While I was compensated for this post, the thoughts and opinions expressed in this post are my own and in no way were influenced by the company.