At least you've got your health. No doubt you've heard that one before. And it is 1000% true. Life may throw you a zillion and one curve balls and you can weather most of those storms, as long as you stay healthy. If you're talking about health care costs, well, that's a different story.
I consider myself incredibly lucky. Yes I have my health, but I also have my amazing family and they have their health too. We have a nice house, great education and good jobs. What we also have (and thankfully have always had) is health care. I can't even imagine how different our lives would be if we couldn't afford it.
I still remember one of the longest, scariest nights of my life. Jason was six years old and wasn't feeling well. He had a fever and was throwing up all day. It got to the point where we knew we had to bring him in for fluids, as we'd dealt with dehydration before. So we went to the local urgent care center.
After a quick examination, we ended up heading to a local hospital. Sure they were sending us for fluids, but they also had a suspicion about his appendix. That seemed crazy to us since Jason never complained about his side hurting or anything.
Loads of fluids later, Jason looked a little better, but still wasn't quite right. The doctor ordered a CAT-scan to check, because he also was suspicious that it could be appendicitis. My wife and I just rolled our eyes, yawned and kept Jason's spirits up as midnight approached and we waited for test results.
Long story short… It was his appendix and the doctor called for an immediate appendectomy. I still clearly picture Allie and I sitting in the hospital waiting room at 4 a.m. as we waited impatiently for the doctor to come out and tell us everything went okay. What was supposed to be a routine 45 minute procedure was now taking a few hours.
Our cell phones were completely out of power  so we couldn't even keep our families updated. It was just the two of us, alone in that waiting room, thinking about our son.
Finally, the doctor came out.  He quickly informed us that it was indeed Jason's appendix, and that it had actually burst! Thankfully, the surgery was a complete success but because it had burst, they needed to make sure they got all the pieces, and that's why it took so long.
Jason spent a few days in the hospital, and while those were tough, nothing was as brutal as those quiet hours in the middle of the night just waiting. The only thing that hurt nearly as much? The bill!
Yes, we had health insurance. Yes, it was a good plan. Yes, this was an emergency and we did go to a hospital in our network. And despite all of that… in the end, we shelled out nearly $8,000 of our own money.
No, you can't put a price on your child's life. I know that. But how insane is it that even with a good health care plan, we still had to pay nearly $10,000. Thankfully, we were able to afford it, but what if we couldn't? What if I needed to take on a second or third job to help raise the money?
There are so many Americans out there who aren't as fortunate as Allie and I. There are parents out there with young children that have medical conditions not covered by their insurance. How are they paying for it? What kind of financial battles are these poor parents dealing with?
It's those parents, that I'm hoping I can reach through this post. I just found out about a wonderful program that's geared towards helping families in need when it comes to health care. The UnitedHealthcare Children's Foundation was created with that goal in mind, and that's why they offer financial grants to help those oh-so-desperate families.
UHCCF grants provide financial help/assistance for families with children that have medical needs not covered or not fully covered by their commercial health insurance plan. The Foundation aims to fill the gap between what medical services/items a child needs and what their commercial health benefit plan will pay for.
The UHCCF is looking to hit the ginormous goal of awarding 20,000 grants by the year 2020. They're at roughly 13,000 grants awarded currently, so that gives them a good three years to help out some 7,000 families in need. What's more, 88.9% of qualified completed medical grant applications are actually approved.
In other words, UnitedHealthcare Children's Foundation has money it wants to give out to deserving families, and they're actually doing just that. They just want to hear from more people!
Before you even ask, no, you do not need to be using United Healthcare as your health care provider. You just need to already be enrolled with a commercial health plan. There are a number of other Grant Application Criteria, so read through them all before applying.
UHCCF has helped so many families pay off extremely high medical bills. Bills for surgeries, therapies and necessary medical care are all helped out by these generous grants so that these children can not just live, but live normal lives. Take a listen to Rachel's story:
It's pretty amazing all around. And if you're having any financial difficulties with your child's medical issues, I urge you to apply for a UnitedHealthcare Children's Foundation grant. The money is there. They want to help you. They just need to hear from you.
Additionally, UHCCF grants are funded by generous donations from people just like you! If you don't need assistance from the grant, please do consider donating to UnitedHealthcare Children's Foundation. A few dollars can go a very long way towards helping another family find peace of mind.
Apply for a UnitedHealthcare Children's Foundation Grant
Follow UnitedHealthcare Children's Foundation: Facebook | YouTube
---
Besides awarding thousands of grants to help pay children's medical bills, the UHCCF is looking to get the word out so it can help thousands more! What's the best way to do that? Word of mouth, of course. That plus a giveaway to reward one of my lucky readers with a $50 Amazon Gift Card!
Win a $50 Amazon Gift Card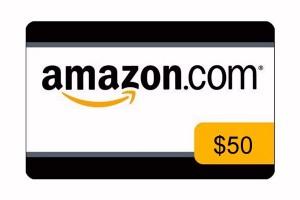 Giveaway ends on June 30, 2017 at 11:59 p.m. ET. The 1 winner will be chosen at random and announced on this site. Giveaway is open only to legal residents of the United States (including District of Columbia), who are at least eighteen (18) years old at the time of entry. The 1 Winner will be notified by email and have 48 hours to respond or a new winner will be chosen.
More Contests & Giveaways
Online-Sweepstakes
Infinite Sweepstakes
Blog Giveaway Directory
Contests, Sweepstakes, Giveaways
BearableDeals
Sweepstakes Lovers
Contest Girl
Giveaway Frenzy
Sweeties Sweeps