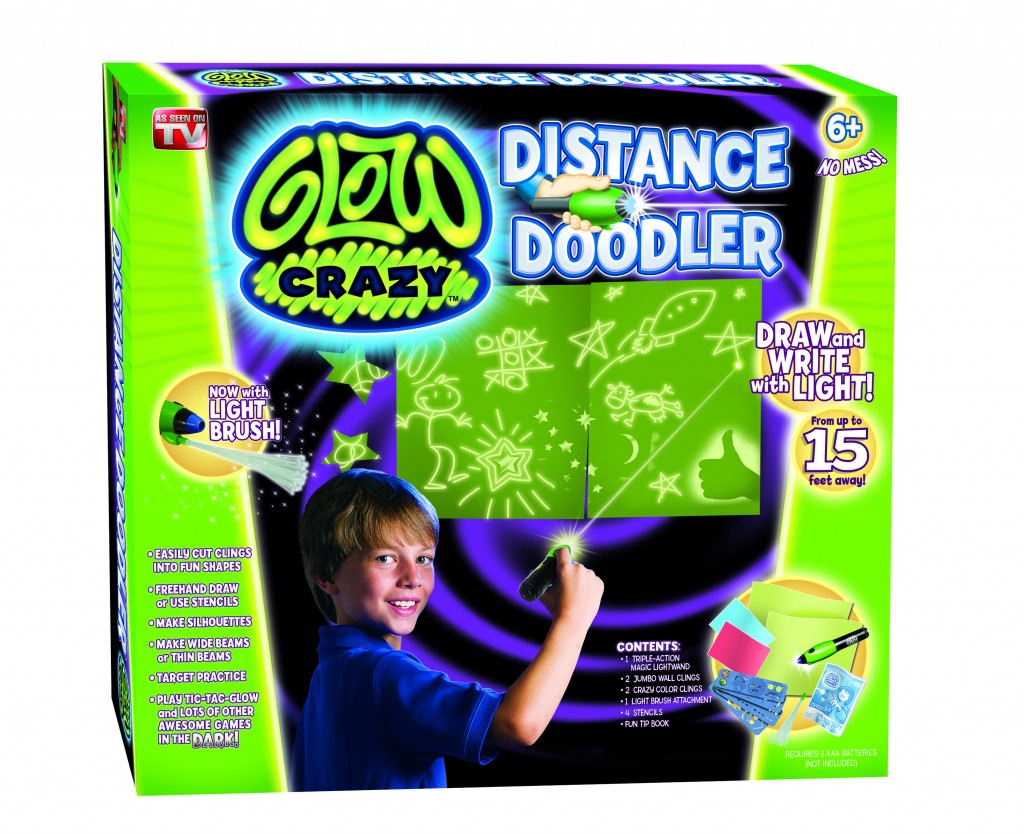 The coolest glow-in-the dark toy I've ever owned in my life was a cheap Star Wars light saber knockoff I had when I was a kid. It really looked like a plain white sword, but if you held it up to a light for 30 seconds or so, it'd totally glow in the dark when you turn the lights off.
I remember having many a sword fight with my sister when we were young Jedi in training. Of course, this was back in the time of Star Wars innocence. Before the Dark Times. Before the coming of… Jar Jar…
But I digress. I recently had the opportunity to test out a new product called the Glow Crazy Distance Doodler. Anything with the name "Doodler" in it, already has my attention. I mean, it just sounds fun, right?
And actually, it is. If your kids like to draw or just be artistically creative, you should definitely check this out. Basically you hang one of the special papers up on the wall, turn off the lights and then use the special Light Brush to draw. It's kind of like running your own laser light show!
Since it was the middle of the day and we wanted to test this out with the kids, Allie set the paper up in the downstairs bathroom and turned off the lights. Ryan took a first crack at playing with it and it really felt like I was watching a laser light show. We were just missing the Pink Floyd.
I tried taking photos of the Distance Doodler in action, but my flash kept going off, pretty much defeating the entire purpose. So I took a few movies instead. Note that the quality of the actual Doodler is WAY better than what you see in the videos. What looks pretty dark here, actually shows up much much brighter in person.
Jason grabbed the Doodler next and tried playing some Tic Tac Toe with Allie.
The Distance Doodler comes with a whole bunch of additional accessories including a few fun stencils and some colored sticker paper to put wherever you want and get doodling.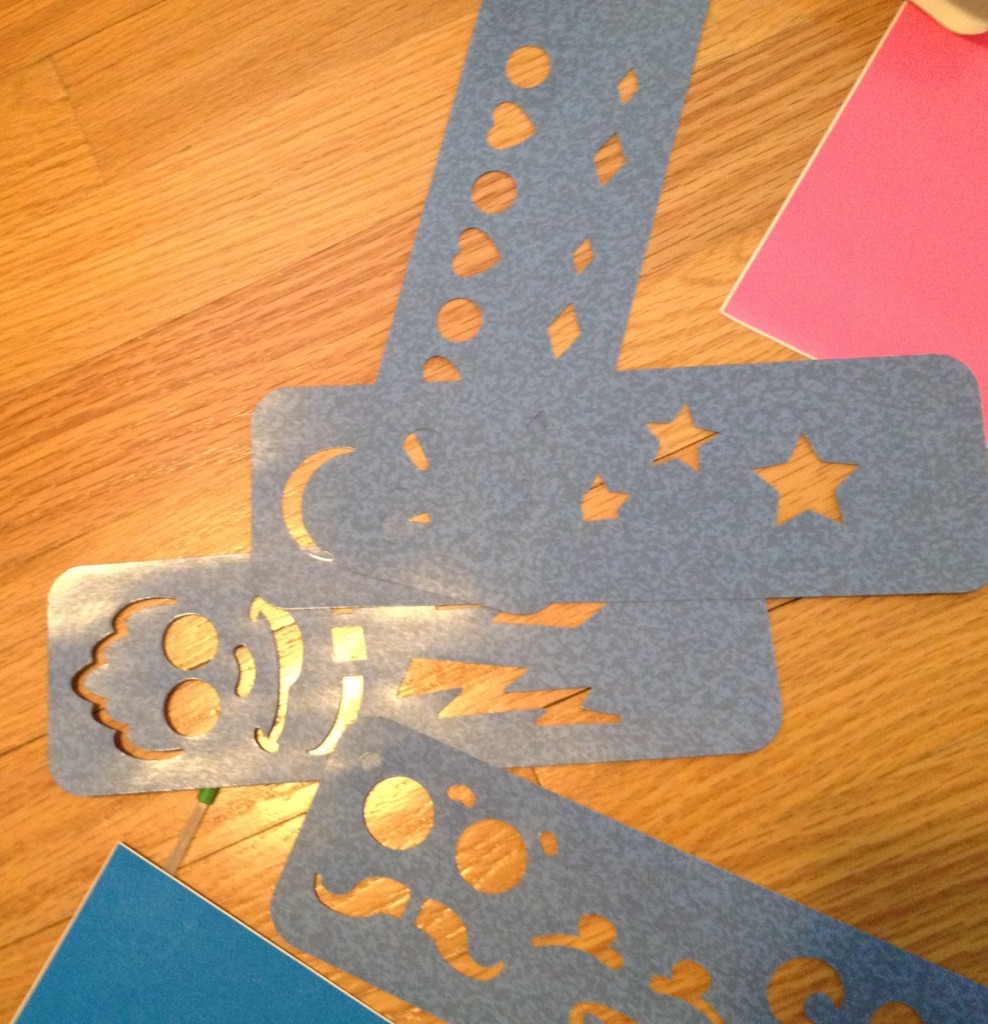 The really cool thing though is that you can leave imprints on the paper! Watch Allie astound and amaze me and the boys with just one hand! Again, this looks 20 times cooler in person!
Jason got in on the action by immortalizing himself on the paper with his best Abe Lincoln impression.
At under $20, the Glow Crazy Distance Doodler is a ton of fun. This thing would be a total blast at sleepovers. Although, your kids would probably never get to sleep once they start playing…
With the Glow Crazy™ Distance Doodler™ from Techno Source, glow-in-the-dark play has never been more fun! The Distance Doodler™ light pen uses patented and safe laser-light technology that allows kids to draw, write and play games on special glow cling canvases from up to 15 feet away. Stick the removable glow clings to ceilings and walls, then doodle from a distance with the laser beam or use the wide beam to design up close and create fun silhouettes. Kids can let their glow creations fade or "glow over" them with the light wand to clear their canvas and start again. New for 2013, an illuminating light brush attaches to the end of the pen for creating brilliant strokes of light, glow-in-the-dark sparkles and more. Includes: dual-action light pen, 2 super glow clings, 2 crazy color glow clings and 4 stencil sheets. Requires 2 AAA batteries (not included). Ages 6+. MSRP: $19.99.
You can get your own Glow Crazy Distance Doodler at Walmart, ToysRUs or direct from GlowCrazyFun.com. Or you can always keep reading for a shot at winning one!
---
Win a Glow Crazy Distance Doodler
Use the rafflecopter widget below to enter
Giveaway ends on March 22, 2013 at 11:59 p.m. The winner will be chosen at random and announced on this site. Giveaway is open only to legal residents of the fifty (50) United States (including District of Columbia), who are at least eighteen (18) years old at the time of entry. The Winner will be notified by email and has 48 hours to respond or a new winner will be chosen.
I received the featured product in exchange for my honest opinions. The thoughts and opinions expressed in this post are my own and in no way were influenced by the company providing the product.
More Contests & Giveaways
Online-Sweepstakes
Online Sweepstakes
Infinite Sweepstakes
Contest Bee
As seen on Hypersweep.com
The Sweepstakes Wire™
Sweepstakes Fanatics  – Share Your Giveaways for Free
Blog Giveaway Directory
Super-Sweeps
BearableDeals
About.com Contests 
Sweepstakes Crazy– Your Source for free online sweepstakes, contests, games, and free stuff on the Web.
Contests & Sweepstakes
More free to enter sweepstakes at ContestHound.com