"I want a golden snub-nosed monkey." Those were the first words out of my mouth after screening the upcoming DisneyNature film Born in China.
Due out on April 21 (Earth Day, yeah!), I joined a few dozen bloggers out in California recently for a #Cars3Event at Pixar Studios, and as part of the fun, we were shown an advanced screening of Born in China.
Set in the breathtaking land of China, this latest animal-filled documentary is hosted by John Krasinski (The Office) and follows the lives of a variety of animal families including: pandas, snow leopards and the previously mentioned golden snub-nosed monkeys.
We get to follow these animals and others through more than a year of their lives as we move from season to season in the gorgeous land of China. What I love best about these DisneyNature films is that they always manage to capture breathtaking moments in the lives of animals that we would never get to see otherwise. The remote locations they visit (and somehow survive!) is astounding and I seriously appreciate the craft and dedication these filmmakers put behind each and every film.
Born in China is no exception. Yes, the mountains of China are amazing to behold. But come on, there's pandas. Pandas!!! Just look at the cuteness.
I'll admit that it was a bit tough to hear the movie at times, what with all the "Awwwwwws" surrounding me in the theater. Okay, fine, I was joining in too.
Seeing adorable MeiMei get oodles and oodles of love from her mom YaYa just has all the feels. All of them!
There's pure love and cuteness aplenty with these two pandas. You just want to jump into the screen and get a big fluffy hug. I also came to the realization that the panda is most definitely my spirit animal. All they do is sleep, scratch their backs on trees and eat roughly 40 pounds of bamboo a day. Replace bamboo with pizza or sushi and I'm sold.
And then there are the golden snub-nosed monkeys. These guys are every bit the class clowns of the animal kingdom. In this case, we follow young TaoTao who heads off on his own to join a group of other loners dubbed The Lost Boys. Their favorite activity? Breaking branches and falling to the forest floor.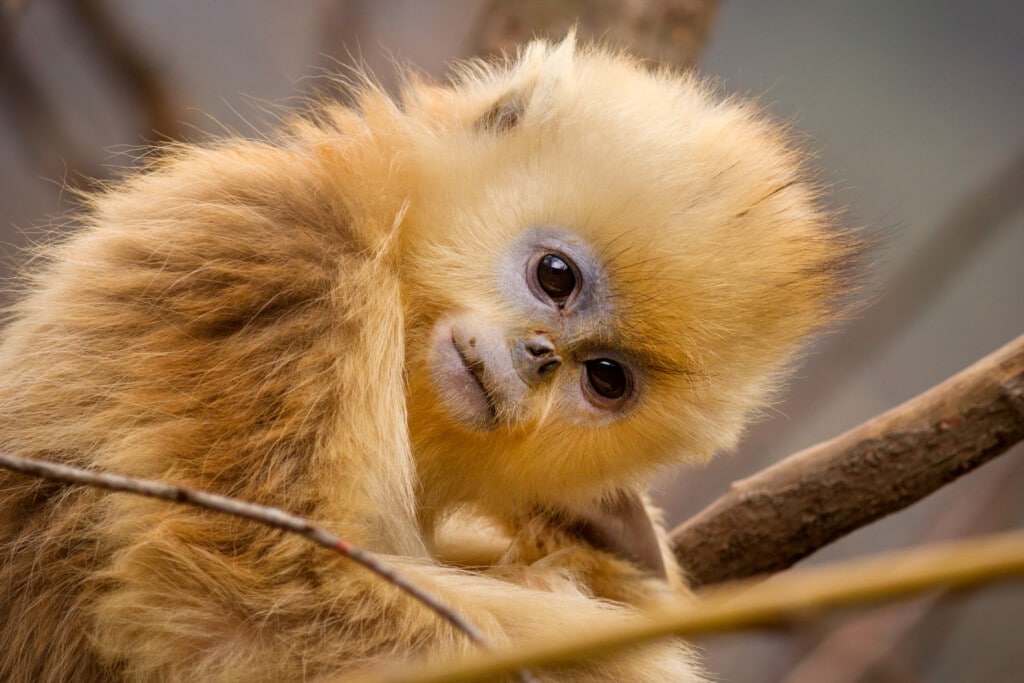 Curious. Mischievous. Even a bit selfish. That pretty much describes this band of rebel monkeys. Watching these guys climb, hang and bounce around from tree to tree is just amazing too. And no doubt there are plenty of gasps and awwws with these guys too.
As for the Snow Leopards, we get to watch Dawa raise her two precious cubs in the snowy and rocky mountainside. Just like every other cat on the planet, they all have a perfect balance of attitude and adorableness. Dawa puts up with their shenanigans while fending off potential threats and hunting down dinner for the family.
From the solid ground of the pandas to the treetop adventures of the monkeys to the snowy mountains of snow leopards, the three tales intertwine perfectly to keep you hooked on these animal tails, er tales.
There's also just such a majestic, graceful feel to the film. Chinese culture is certainly represented, particularly with the Crane.
Did you know that in the Chinese Culture a crane is incredibly symbolic? It's said that every time a crane takes flight, its carrying the soul of the recently departed with it.
If you're a lover of animals, nature or just beautiful storytelling, I highly recommend you take your family to see Disneynature's Born in China. I also urge you to see it during the opening week (April 21-27), because Disneynature will be donating $0.20 per ticket to the World Wildlife Fund through the Disney Conservation Fund, with a minimum guaranteed donation of $100,000. See a great film and you can actually help these amazing animals you'll be learning all about.

Born in China in theaters April 21
#BornInChina
Follow Disneynature: Facebook | Twitter | Instagram | Tumblr