This post is brought to you by Radisson Blu 
With its terrifying kicks, sudden punches and lightning quick reactions, Muay Thai, aka Thai boxing, is becoming more and more popular all over the world. It's long been one of Thailand's favorite spectator sports. For many travelers spending time at beach resorts in Phuket, checking out some live Muay Thai action or attending a training session is all part of the experience.
Seeing live matches
On Monday, Thursday and Saturday nights, the Patong Boxing Stadium (2/59 Sai Nam Yen Road, Patong Beach) plays host to some rather extreme Muay Thai matches. Do be aware that if you're sensitive to violence, it's definitely not for you. The Stadium is not a place where fighters hold back. In fact, it's one of the biggest Muay Thai venues in all of Thailand's southern region. Tickets, which should be booked online in advance, are 1,800 Baht for VIP seats, with a free t-shirt included, 1,500 Baht for ringside seats and 1,300 Baht for stadium seats.
Training sessions
The Patong Boxing Stadium also offers training sessions. So, if watching a match gets you in the mood, head there any day of the week, except Sunday. Morning sessions run from 8am-10am and from 11am-3pm, while afternoon sessions happen between 4pm and 6pm. Casual classes are 500 Baht per session or 800 Baht for two sessions. You can also buy weekly or monthly passes.
You can certainly expect quite a bit of bang for your buck. Sessions include runs of anywhere between 3 and 10 kilometers, 20 minutes of skipping, 30-50 minutes of clenching, 2-3 rounds of maneuvering and 9-15 rounds of boxing, incorporating shadow, bag and pad.
Muay Thai camps
There's also a bunch of Muay Thai camps in Phuket, where you can spend time getting fit and sharpening up your skills with specialist coaches. One of the biggest is Tiger (7/6 Moo 5 Soi Taled Chalong), which spreads across a couple of acres smack bang in the middle of the island. In any month, 250-400 trainees are in attendance, taking advantage of 34 coaches of both local and international origin. Lessons in overall fitness, Ju-Jitsu and MMA are also available.
If you're keen to work out closer to the beach, there's Sinbi Muay Thai (100/15 Moo 7, Soi Sai Yuan Rawai), which is right near Nai Harn Beach. Facilities are cutting-edge; nearly all of the teachers have competed at national, if not international, level; and the school organizes its own competitions. So, there's every chance you'll have the chance to head into the ring once your training's over and done with.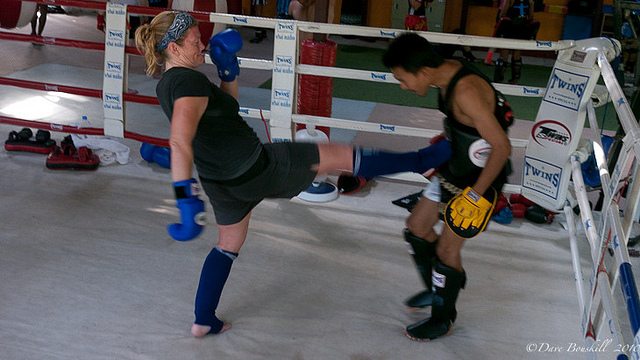 One of Phuket's longest running Muay Thai institutions is Suwit Muay Thai Camp (15 Moo 1 Chao Fa Road, Chalong). It's right opposite the turn-off to the zoo. Having been established more than twenty years ago, it offers a large swimming pool and spacious facilities. Training sessions, which cater to all levels of ability, happen twice a day. Plus, every Friday, a fight night is hosted, which is open to members of the public.