This post contains affiliate links.


Never before have two such great tastes that taste great together collided in the toy aisles. Yes, ladies and gentlemen, LEGO Muppets are coming.
Besides Star Wars, Marvel and DC LEGO sets, the brick building company has tackled some amazing pop-culture properties as Back to the Future, Ghostbusters and The Simpsons. They recently released a Sesame Street set which basically laid the groundwork for Jim Henson's furry, funny family.
I have always loved The Muppets, and it was a dream come true when I had the opportunity to interview Kermit, Miss Piggy and Constantine at a blogger event for the Muppets Most Wanted release a few years ago. I was actually able to cross that one off my bucket list.
And now one of my favorite toy lines is teaming up with my favorite stage performers. Hitting shelves starting May 1 is Series 1 of the LEGO Muppets.
Meet the LEGO Muppets Minifigs
Series 1 contains exactly who you'd expect in an introductory line of the Muppets. And they all come with some pretty perfect accessories. Okay, someone light the lights already…
LEGO Kermit
No way a first wave of figures would forget about the official Muppets Spokesman, er spokesperson, er spokesfrog. Yes, Kermit the Frog kicks things off and while his limited articulation prevents him from flailing his arms in hysterical delight, the LEGO Kermit minifig comes with a banjo and rainbow. Perfect for making connections in the swamp.
LEGO Miss Piggy
And if you have Kermit, then naturally moi has to follow. The stunning Miss Piggy minifigure comes with a copy of some no-doubt popular magazine with her on the cover.
LEGO Fozzie Bear
Wakka Wakka! My favoritest Muppet makes the cut for the first wave of minifigs! Fozzie Bear brings the jokes, along with a banana and stand-up mic. I would've preferred a "rubber chicken," but let's not get greedy.
LEGO Gonzo the Great
Nothing is brighter than Gonzo the Great's shirt. I'm no fashion expert, but a colorful polka dot tie may not be the best match for a jalapeno-filled shirt. Anyways, the Beaked One is joined by the love of his life, Camilla the chicken.
LEGO Janice
Fer sure you can't have a LEGO Muppets set without the only female member of The Electric Mayhem. Janice is totally like wow and comes with her groovy electric guitar.
LEGO Animal
LEGGGGO! LEGGGGGO! That's how I picture Animal screaming the company name. Anyways, the wildest Muppet (with a heart of gold, maybe), would not be complete without his signature drum sticks and drum kit.
LEGO Swedish Chef
BORK! BORK! BORK! My second favorite Muppet also makes it into the first wave: The Swedish Chef. Easily the most misunderstood character among the group, the culinary commander comes with a whisk and a mischievous-looking tomato.
LEGO Rowlf
LEGO minifigs get a bit of class thanks to the addition of Rowlf the dog. He's not sporting his spiffy tuxedo, but still, the piano-playing pooch comes with some sheet music and a mini Beethoven bust.
LEGO Dr. Bunsen Honeydew
I've always viewed Dr. Bunsen Honeydew as a good guy with a love for torture. The torturee being his simple-minded assistant Beaker who always plays guinea pig to the good doctor's insane experiments. Ol' Melon Head here is sporting his usual labcoat and comes with a mysterious-looking beaker. Speaking of which, we also get…
LEGO Beaker
MEEP! MEEP! MEEP! Beaker is either the bravest soul on the planet or just pure glutinous for punishment as he lets Dr. Bunsen Honeydew talk him into participating in the most dangerous of experiments. And yeah, most of the time, they end in fire, but good ol' Beaker is always there to get the next experiment moving along. This LEGO Muppets minifig comes with some sort of electronic meter. Possibly a geiger counter for radiation
LEGO Statler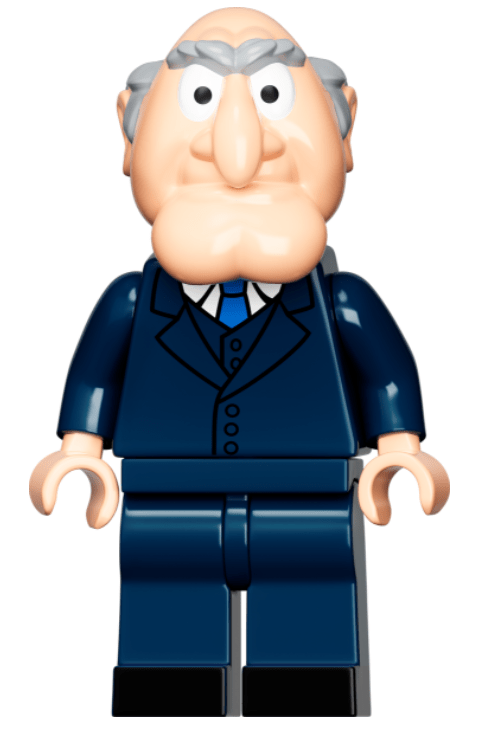 Hah. I wonder how hard a sell it was for the marketing folks to pitch these last two figures. Picture little Jimmy opening his pack of LEGO Muppets minifigs. His friends got Kermit and Fozzie and he's really hoping to get Animal. Or Gonzo. So he tears open the package, a wild look in his eyes. His heart beating frantically as he can't wait to discover which cool Muppet he holds in his hands. Is it Beaker? Is it Rowlf? Maybe the Swedish Chef???
Um. No. It's just some old guy in a suit. "You got a figure of grandpa. Haw. Haw."
On the flip side, you have to love to hate those two old guys in the balcony who never let up on harassing Kermit and the rest of the Muppets gang. Statler (the taller and skinnier of the two fogies) comes with a laptop that's set to some Muppet-themed website with a big picture of Scooter.
LEGO Waldorf
And rounding out the first wave of LEGO Muppets minifigures is the round-headed old guy himself, Waldorf. No salad with this one, but he does come with a cup of coffee and a ZZZ sign.
And that's how we get things started! I can't wait for the LEGO Muppets minifigures and know I'm going to have to spend a fortune buying up blind packs until I have all 12 figures. I'm sure I'll somehow end up with about seven or eight Statlers after the comments I made. I just hope this means we'll be getting a lot more future waves of minifigs and hopefully a playset or two, like the Muppet Theater!
Who's your favorite LEGO Muppets minifig?