Hitting Niagara Falls is something Allie and I have been talking about doing for years, and last month, we finally got to cross that one off our bucket list. Although, we nearly got deported in the process.
Joining us on our cross-border quest was Allie's cousin Ivy and her family (that'd be husband Ira and sons Matt and Ethan). They met us at our house bright and early to start our extended weekend trip. All four boys get along super swimmingly, so we took Matt and Ethan with us in our car, and Ivy and Ira followed us on to the road. With an estimated 8 or so hour trip (not counting any stops or traffic), we got on our way!
On the way, we passed through Binghamton, NY, which is where Allie and I met at college. We didn't have time to stop and tour the Binghamton University campus (we'll save that for another trip), but Binghamton was the perfect stopping point for a bathroom and lunch break. So we hit an old favorite… the Oakdale Mall!
It's definitely been updated a bit since I was there last. There's even a cool comic book store there now!
After that pit stop, we got back on the road and headed north and west! Yeah there were quite a few bathroom breaks (apparently Ira and Matt have bladders the size of a nickel), but we hardly hit any traffic. Our first stop was at a hotel in Niagara Falls on the Canada side, just across the border. So roughly 98% of our super long trip was in NY!
Imagine a long car ride with your kids, only replace "Are we there yet?" with "Are we in Canada yet?"
We finally made it to Niagara Falls on the NY side and went through a few streets until we were close to the border. Except… that's where we hit some major traffic. We were less than 1 mile from our hotel. We could see the Falls. But with hundreds of cars merging from 5+ lanes down to two, it took us over an hour to get through the checkpoint. And, well, we almost didn't make it!
When we finally got to the customs booth, the woman took our passport cards (and Matt and Ethan's passports). She asked us a few basic questions about why we're going, what we brought, etc. Then she asked about Matt and Ethan, inquiring who they were and where were there parents.
"Somewhere a few cars behind us in this traffic," I told her. That didn't fly.
"You're bringing two minors across the border without even a note from the parents," she firmly told us in a far-from-friendly tone. We kept trying to explain, saying we could even get Ivy or Ira on the phone if that'd help. She wanted nothing to do with that.
At this point, I was beginning to wonder if we had been setup by Ivy and Ira all along, falling right into their well-laid plans so they could have a nice long weekend by themselves…
Anyways, the customs woman asked Matt (who's thankfully the oldest of the four kids) who we were and where his parents were. He laughed and said we were his cousins. Good thing he didn't joke around and lie like most kids might. If he had said, "I don't know who these crazy people are," that woman would've yanked me and Allie out of the car and cuffed us both before we could even blink.
She was satisfied, though, and we made it through finally. But no way were we doing that again. On the way home, the kids were crossing the border with their own parents!
We got to our hotel around dinner time, checked in and then decided to walk around a bit and see the sites.
The main strip in Niagara Falls reminded me a lot of Las Vegas. Tons of restaurants, wax museums, mini-golf, etc., all with huge over-the-top buildings.
We found a Rainforest Cafe for dinner (good food but terrible service). Right next door, though, was a WWE store. On the outside walls, they had tons of handprints from famous wrestlers of today and yesteryear. I just had to get a shot of me and my favorite luchador Rey Mysterio Junior!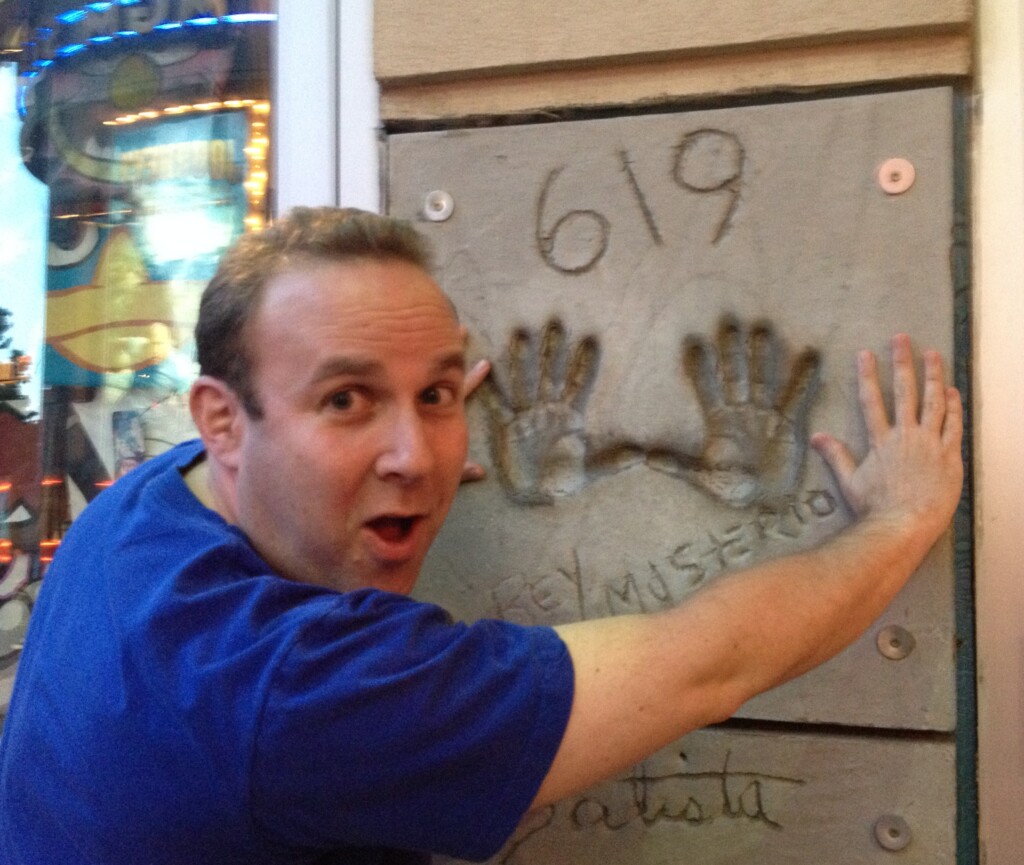 After dinner, we walked around and went up the Skylon Tower for a fun, glass elevator ride to a gorgeous view.
Allie and Ira were far from happy with the elevator ride up, but they did admit that the views were gorgeous, especially at night.
You could even go outside and walk around the tower for a closer view. It was just a tad bit windy, if you could imagine.
The next day, we hit IHOP for breakfast (clearly the highlight of the trip for the kids so far). I love the logo with the maple leaf.
Next up was a bit of fun before hitting the Falls. Bet you didn't know they grow big lizards in Canada, eh?
The kids avoided being eaten and played a round of mini-golf at Dinosaur Adventure Golf. This was actually a really cool course, built with huge dinosaurs all around. They mix in sounds and even have a huge volcano that "erupts" every once in a while giving off tons of heat and shooting a huge puff of smoke out the top. I was standing outside the entire course, and I could feel the heat coming off of it!
I even made a friend!
Sadly, I can't tell you who won, because the kids never finished after the next hole for some reason…
The only complaint I have for this Dinosaur Adventure Golf (other than my kids becoming lunch) is that I couldn't go in with them. Well, I could've gone in and just followed them around if I was willing to pay. Yes, they were charging $3.99 per person for any "Non-Golfer" to enter. Sorry, but that's pretty damn disgusting if you ask me. So I waited outside while they played through.
Right next to the mini-golf was a huge Ferris wheel. It went pretty darn high, but the entire car was completely enclosed, so you feel real safe in it. At least I did. Allie and Ira (who I'm still impressed went on the thing), were ready to get off before we even got on.
Some more spectacular views of the area.
Ferris wheel selfie!
Now came the real fun. We finally went to the Falls themselves and took a boat ride on The Hornblower. It takes you out on the lake and goes past all the falls. They give you these ponchos to wear so you don't get drenched.
This was easily the highlight of the entire trip for me. It is so worth taking this tour and getting up close and personal with these magnificent Falls. These pictures (taken with just my iPhone 4S camera) don't even come close to doing justice to this natural beauty.
I'll admit after going past the first few falls, I had my hood down and felt a few sprinkles. I was awed by the beauty but kind of laughed at the ponchos. And then… then we hit the horseshoe falls and nature slapped me in the face.
It was CRAZY windy, with water pelting you non-stop. It felt so good, though, on such a hot day. Even with our hoods on, we didn't stand a chance against the power of the Falls!
We all got off the boat, tossed our ponchos and took some family photos.
Besides The Hornblower tour, we also went on the Journey Behind the Falls, which lets you walk around through tunnels right behind the Falls, with a few observation areas to come out and really see the Falls. Except for the very first area that you can walk way out and look at them, the rest of it was kind of lame. I definitely wouldn't recommend this one.
However, after leaving that tour, we just stopped on the way to look at the Falls and got some amazing footage too.
I even took a quick video here, showing the power of the Falls.
And then, we saw the most spectacular view ever. Actually, Matt was the one who found it. The rest of us were ready to move on and get back to the hotel after a long exhausting morning. But we ran over to the Falls where he was pointing and saw… a perfect, fully formed rainbow.
It was a great way to end our time in Niagara. We only spent about 24 hours there, but it was so worth the trip and we can't wait to go back and do it all over again. Next up was a "short" trip over to Toronto! But you'll have to wait for Part 2 of this post for those details!
Hope you enjoyed this peek into our trip to Niagara Falls Canada!
Have you been to Niagara Falls?