I have a confession to make. I'm really not a big Scooby Doo fan.
Sure, I watched it all the time as a kid. I probably enjoyed it at the time, because back then we only got to watch cartoons at specific times. There weren't dedicated networks to animation or anything!
I didn't hate Scooby and the gang, I just found them kind of boring is all. The only ones I really liked were the ones with guest stars like Batman and Robin or the Globetrotters. Yeah, those were great.
No, I far preferred other Hanna-Barbera classics like the Herculoids, Space Ghost and even Frankenstein Jr. They just spoke to me more and frankly, were far more entertaining.
Anyways, why am I bringing this all up? Simple. Because DC Comics just announced that it is giving some of our favorite Hanna-Barbera characters a Millennial Makeover!
This spring, DC Comics is unleashing four new comic book series that modernize a number of Hanna-Barbera characters as seen through the eyes of some of today's top comic book creators.
Take a look at what's on tap:
SCOOBY APOCALYPSE – Featuring character designs by veteran artist Jim Lee and an origin story by Jim Lee and Keith Giffen (JUSTICE LEAGUE 3001), artist Howard Porter (SUPERMAN) will provide his own unique take on Freddie, Velma, Daphne, Shaggy and Scooby-Doo. "Those meddling kids" and their Mystery Machine are at the center of a well-meaning experiment gone wrong and they'll need to bring all of their mystery solving skills to bear (along with plenty of Scooby Snacks), to find a cure for a world full of mutated creatures infected by a nanite virus that enhances their fears, terrors and baser instincts. This time, the horrors are real in this apocalyptic near-future badland!
Like I said, I never loved Scooby and the gang, so I'm certainly semi-interested in this update. The whole Post-Apocalyptic Cyber-Update to the gang doesn't do much for me, though. I would've far preferred if they kept the gang exactly the same and dumped them in a horrific realistic zombie world, just like Archie's done so well with series like Archie vs. Predator.
I do enjoy Jim Lee's artwork and generally love Keith Giffen's stories, so I'll certainly keep an open mind on this one.
THE FLINTSTONES – Based on character designs by Amanda Conner (HARLEY QUINN, STARFIRE), writer Mark Russell (PREZ, GOD IS DISAPPOINTED IN YOU) provides his own unique perspective on everyone's "modern stone age family." Russell will use Bedrock's most popular family to shine a light on humanity's ancient customs and institutions in a funny origin story of human civilization. Fred is still the simple man, striving to be the king of his castle, Wilma is still the tolerant but not-indulging wife and Barney (with his wife Betty and infant son Bamm-Bamm) is still the original wingman, whose loyalty to Fred often outweighs his common sense.
I'd put the Flintstones in a similar class as Scooby for me. I watched them all the time and definitely liked it better than Scooby Doo, but not by much. I'm a huge fan of Amanda Conner's work, but I'm not sure she's the right fit here for this Stone Age Family. I also don't see how these characters can hold up for more than a single issue. It works as a funny sitcom on TV, but in print a lot of the humor invariably falls flat.
WACKY RACELAND – Take The Ant Hill Mob, Penelope Pitstop and Dick Dastardly, mix in a healthy dose of "Mad Max" and you get this dark and gritty take on Hanna-Barbera's "Wacky Races," courtesy of writer Ken Pontac (REBOOT, HAPPY TREE FRIENDS) and artist Leonardo Manco (HELLBLAZER), with vehicle designs by Mark Sexton (MAD MAX: FURY ROAD). A time of hope and innocence with Utopia at the finish line has given way to planetary Armageddon and a desert wasteland full of radioactive lakes, nanotech dust storms, and cannibalistic mutants. Against this backdrop, the Wacky Racers and their sentient vehicles continue their contest, but now the competition is for survival, and there can only be one winner when the checkered flag falls.
Okay, anytime you mix a ridiculously cartoony villian like Dick Dastardly with a savage wasteland of a backdrop like Mad Max and you've piqued my interest. This one has the potential to be either just really way out there weird or insanely and surprisingly awesome. If nothing else, this will be worth the price of admission just for Leonardo Manco's gorgeous artwork.

FUTURE QUEST – Writer Jeff Parker (AQUAMAN, JUSTICE LEAGUE UNITED, BATMAN '66) and artist Evan "Doc" Shaner (JUSTICE LEAGUE DARKSEID WAR: GREEN LANTERN) join forces to bring fans new tales of adventure's most iconic teenager, Jonny Quest, along with his sidekick Hadji. This series combines Team QUEST (Hadji, Race Bannon, Dr. Benton Quest and Jezebel Jade) with some of the most well-known action and adventure heroes ever created by Hanna-Barbera, including SPACE GHOST, THE HERCULOIDS, BIRDMAN, MIGHTOR and FRANKENSTEIN Jr., among others.
Now this, THIS I can get behind 1000%! All my favorites teaming up with Jonny Quest! I always loved the look of Jonny Quest but never quite got into the storylines. This team-up style can certainly help me there! And the teaming up of Jeff Parker and Evan Shaner should ensure gorgeous storytelling mixed perfectly with downright fun action adventure. I'm seriously pumped for this one!
Take a look at a few more promos for Future Quest!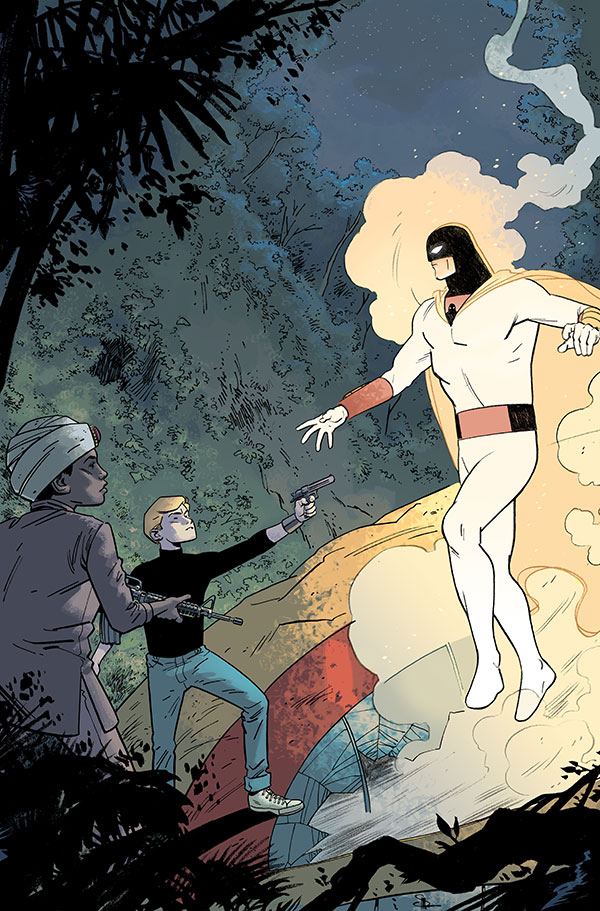 Look for the debut issues of all four titles this May!
Which Hanna-Barbera title are you most excited about?
Follow DC Comics: Facebook | Twitter 
 All images: DC Comics