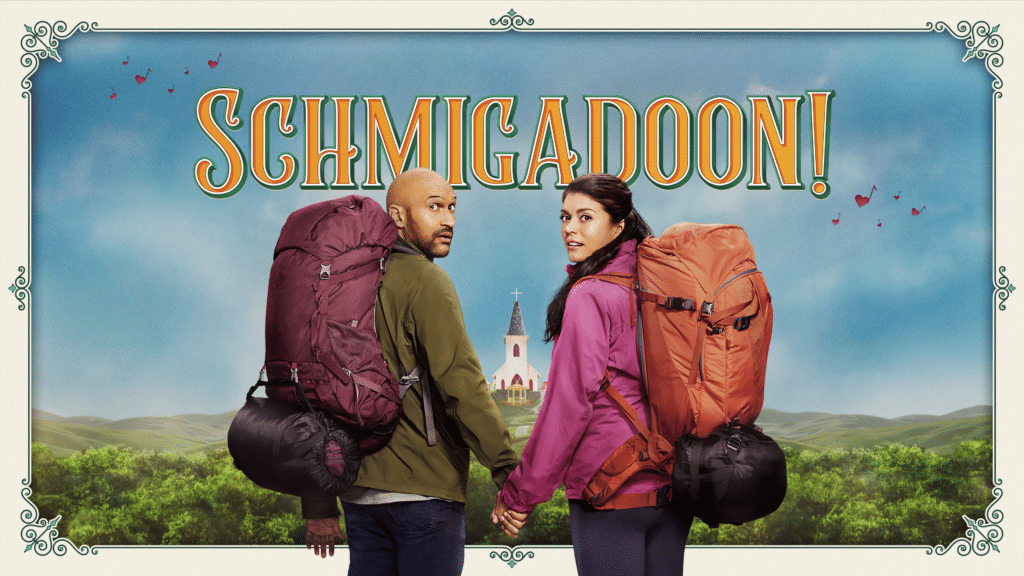 Annie was the very first musical I ever saw on Broadway. I must have been about 7 or 8 years old and all I remember from that cold, wintery family trip to NYC was that I left my sweater in the theater.
No, I'm not a huge fan of musicals.
I do love the lavish backdrops and sets, as well as some of the stories. These days, you can also expect some crazy cool special effects. (Even the atrocious Spider-Man: Turn Off the Dark on Broadway was visually cool to watch).
But the thing I dislike most about musicals? The music.
I'd much rather watch a play than a musical. When the storyline is just getting good and the characters are building up to a conflict and I'm 100% hooked on the storyline… well, yeah, that's when everyone suddenly breaks out into some crazy song and dance number.
I just want the story to continue.
And perhaps that's exactly the reason I shockingly fell in love with Schmigadoon! on Apple TV+.
What is Schmigadoon!?
Schmigadoon! is a six-episode series on Apple TV+. And yes, it's a musical. Like Glee, I suppose.
Somehow, though, it does a spot-on perfect job of balancing parody with homage. Similar to the way the TV series Jane the Virgin was all about telenovelas (with the show itself often parodying but mirroring common telenovela/soap opera themes), Schmigadoon! is chock full of characters, songs and themes from the Golden Age of musicals.
The main plot itself is apparently a parody of the 1954 musical Brigadoon, which saw two American tourists stumble upon a mysterious Scottish village called Brigadoon, which appears for a single day every 100 years.
A parody of iconic musicals, "Schmigadoon!" is a new musical comedy series executive produced by Lorne Michaels and starring Emmy Award nominee Cecily Strong and Emmy Award winner Keegan-Michael Key as a couple on a backpacking trip designed to reinvigorate their relationship when they discover a magical town in which everyone is living in a studio musical from the 1940s. They then discover that they can't leave until they find "true love."
The loving couple
Major props to the casting team behind Schmigadoon! because everyone adds something wonderful to the ridiculous mix. Heck, somehow they even managed to get Martin Short in on the fun.
I haven't watched Saturday Night Live in decades, but apparently Cecily Strong comes from that stock of improv actors. She brings an incredible amount of realism to the show as Melissa, a somewhat controlling but independent and caring doctor who falls for fellow doctor Keegan-Michael Key's Josh.
Their relationship is quite relatable as they spend their time complaining about the most horrible parts of their days, as well as arguing  over how to pronounce words and phrases. Their idea of a perfect romantic dinner is not complete without them eating their body weight in candy bars.
Keegan-Michael Key certainly has a big following, especially from his Key and Peel sketch comedy. I just never liked him. I didn't find him funny at all. Not one bit. Until I recently saw him on an SNL Muppet Show sketch, and am still laughing my butt off.
I don't think I would have enjoyed Schmigadoon! nearly as much with any other actor playing the lead male. Key worked for me because of one very perfect reason: His character Josh also hates musicals.
See, as the townsfolk of the mystical musical town were constantly breaking out into song (Everything from a musical number about the town itself to a ridiculous tune purely discussing corn pudding), Josh wouldn't hold back his disgust.
He'd talk over the songs.
Roll his eyes.
Scream for the music to stop.
Josh was a character who despised musicals. Heck, he even went so far as to refuse dancing with his girlfriend Melissa at a wedding where she was in the bridal party. He just was not a fan of public singing and dancing in regards to his involvement.
And Keegan-Michael Key's performance as Josh is 100% how I would feel if suddenly everyone around me in real life starting singing conversations instead of talking about them.
The Cast of Schmigadoon!
Besides our main couple, there are plenty of other fantastic actors and characters on the show. Alan Cumming (Nightcrawler from X2: X-Men United!) plays the overly friendly Mayor Menlove.
Dove Cameron is adorable as the blonde, pigtailed bride-wannabe Betsy, with an angry shotgun-toting farmer of a father.
Jane Krakowski exudes her typical hilarious, drama-filled self as The Countess.
Jaime Camil embodies the chauvinistic, arrogant, a-woman-can't-be-a-doctor attitude as the town's only physician. (Oddly enough, he was the main telenovela actor on the previously mentioned Jane the Virgin.)
And of course, no musical TV show would be complete without the utterly amazing Kristin Chenoweth, as the Bible-thumping, fear-inducing Reverend's wife Mildred Layton.
Will there be an encore?
I was surprised that Schmigadoon! was only six episodes long. And at roughly 30 minutes per episode, this is definitely one series to binge easily.
The real question now is: Will there be a season 2?
I'm not going to spoil the ending for you but I would love a Season 2 and they very well could continue the story as far as I'm concerned. Apple TV+ hasn't committed one way or the other, but considering the positive buzz, I wouldn't be surprised one bit to see more of Josh, Emily and the entire cast.
After all, you can't stop the music…
Watch Schmigadoon! on Apple TV+
Get a free 7-day trial to Apple TV+. Plenty of time to binge all 6 episodes.