Since I was a teenager, I've had the most incredible superpower in the world: Sleep. Yeah, yeah. I know, anybody can sleep. But I made it a work of art.
On weekends, I never even realized there was a world before noon. When I went off to college, I skillfully chose my classes so that the earliest I ever had to be out the door was 11:40. Even on our honeymoon in Hawaii, I slept the mornings away, despite the absolute gorgeousness of nature waiting for me and my new bride right outside our hotel room.
Yes, sleep is in my blood. But then… well, then Allie and I did something crazy. We willingly sought out the one thing that can absolutely crush sleep. The Kryptonite, if you will, to my life-long superpower.
We had children.
Yes, I love my kids and am beyond thankful that they sleep through the night now. But once those little buggers enter this world, your sleeping habits of old are completely history.
Nowadays, I work full time, come home for a quick dinner and some time with the family, then it's upstairs to my home office to work on my blog or other freelance writing assignments. Mix in the regular craziness of life, helping the kids with schoolwork, exercising, attending school concerts, etc., and once the weekends hit, I am beyond exhausted.
These days, I'm just not getting a full restful night's sleep. That's definitely not good because that leads to an exhausted me in the morning which makes me cranky (You won't like me when I'm cranky!) and more prone to stress. And that just feeds the awful cycle over and over.
The silver lining to this, though, is that I've learned to embrace the pure joy of napping. In fact, I pride myself in the fact that I can (and do) nap anywhere and everywhere I can. I'd even go so far as to claim the title of King of Rest!
Don't believe me? Follow me on a normal day of napping, won't you?
Sure my eyes are always bigger than my stomach. But apparently napping is even bigger than my eyes.
I don't know why I bother doing laundry since I'll just need to do another load by the time I wake up.
You seriously can't blame me for napping at the movies. Dads have been doing that for years, only now it's almost impossible NOT to fall asleep since they've made the chairs soooo comfy.
Unpacking groceries from my car is exhausting. Sometimes I just need a little cat nap to recharge.
My favorite room in the house is the pantry. Stocked with so many tasty snacks, it's tough to avoid. Though I try to be quiet so the kids don't hear and… well, that's when I generally just pass out.
Okay, even I'll admit it's pretty sad that a grown man can't even go get the mail without passing out for a quick nap
And after a long hard day of napping, nothing beats a nice, relaxing nap on the couch. I'm usually so wiped that I don't even bother cleaning off the couch first.
So yeah, I feel justified in being the self-proclaimed #KingofRest! I do, however, understand the incredible importance of a powerfully good night's sleep. It'll reduce my morning crankiness so I'll be loads nicer to my family and co-workers. I'll be more functional at work all day. I'll be more helpful to Allie and the kids. I'll even have loads more energy so I can exercise, run around with the boys and even help make dinner. Okay, maybe I'll just eat the dinner. But I'll eat it with gusto!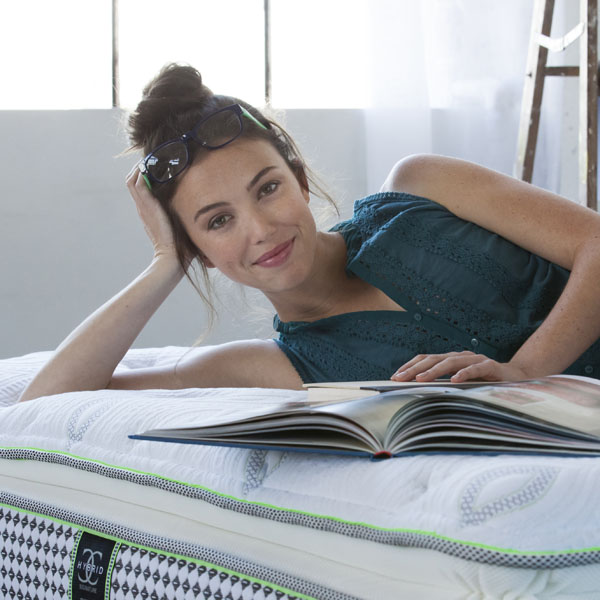 One of the best ways to get a good night's sleep? Get yourself a great mattress. Restonic mattresses are handmade with better quality materials and more attention to every little detail than their competitors' comparably priced mattresses.
Restonic mattresses are like magic. They let your body stay in one position longer throughout the night, so you aren't tossing and turning so much. You'll slip into a deeper and more restful sleep.
I mean, Restonic's tagline is "Supporting Dreams." I can't think of a cooler, more representative imagery than that! And as part of a blog campaign with Life of Dad, Restonic is choosing to lay the official title of King of Rest on one dad blogger, rewarding them with a Restonic mattress of their own.
I've already given myself the title, but feel I certainly deserve it. I mean, I do love my naps but sleeping in the bathtub definitely isn't great for my back.
And since Restonic are incredibly nice and generous folks (see what a good night's sleep can do for your soul?), they're giving away a queen-sized mattress to one lucky reader!
By entering below, anybody has the chance to win a queen sized HealthRest® Mattress from Restonic.  Invest in your health with one of Restonic's HealthRest® Brio™ Mattresses. Layered with latex and TempaGel® by Restonic and supported with a Trucomfort core™, a healthy, supportive night's sleep is yours for the taking.
Follow Restonic: Facebook | Twitter | Sleep Blog
Disclosure: I have partnered with Life of Dad   and Restonic Mattress for this promotion.