I've been on a number of Disney Blogger trips before and got to go behind the scenes of all sorts of Tinkerbell movies like Tinkerbell and the Legend of the Neverbeast and The Pirate Fairy. So when I was recently invited on another Disney Press Trip for #HanSoloEvent (Star Wars!), an awesome trip became even more magical when I knew that pixie dust was involved.
Besides celebrating everything SOLO from the new Star Wars movie (which you definitely should go see if you haven't already!), myself and 24 other bloggers helped celebrate 55 years of Disney's animated movie Peter Pan. Yep, the very beginning of Tink's adventures.
Our day began at the amazingly cool Walt Disney Studios. Even though I'd been here a number of times before, it still fills you with magic every single time you walk around the lot. This is truly where the magic happens.
Touring Walt Disney's Office
This time around, our day started with an extra special treat. We were getting an exclusive tour of Walt Disney's office. This special tour is not open to the public so don't waste your time trying to reserve tickets now. Instead, come walk with me behind closed doors.
As we entered Walt Disney's office, we were shown the above photo on the wall of his three secretaries. They were the last lines of defense at keeping unwanted visitors away from the creative genius.
On each of his secretary's desks was a red journal. Every morning, one of the secretaries would handwrite all of Walt's appointments in it and then hand copy it on the other two journals. That way at any given time, any of his three secretaries would know exactly where Walt was and with whom he was meeting.
Just outside his main office, sat a large trophy cabinet filled with all sorts of fabulous awards, trophies and plaques.
The amazing thing about Walt Disney's office is that the majority of items we saw were the actual items from Walt's office back when he actually was alive to use them. The staff painstakingly recreated the exact look of his offices down to the positioning of the paper clips. These were all the original items, not reproductions, so we were all literally standing in the midst of greatness!
As you can see, Walt loved collecting (and even making!) little miniature figurines.
Walt hung up two portraits of his daughters that were drawn by Norman Rockwell.
Note the ashtray and remember that decades ago, it was rare not to smoke.
Walt didn't actually play the piano in his office. Instead, he'd have the Sherman Brothers come in and play for him. "Feed the Birds" from Mary Poppins was his favorite tune for them to play.
Speaking of birds… see that birdcage in the upper left corner? That one and a few others scattered about were souvenirs from Walt's trip to New Orleans. It was there that he discovered "animatronics," as the birds moved about a bit. It was these automated birds that gave Walt the inspiration for all the animatronic items in Disneyland and Disney World, such as the Tiki Room.
Apparently Walt was a big baseball fan. With a Stan Musial book on his desk, it's a good bet he was a St. Louis Cardinals fan…
I had to snap a quick selfie of myself in Walt Disney's office before we moved on to the next room, which was Walt's working office. It's where he did a lot of his thinking, planning and meetings.
Walt Disney's Office Tour Continued – Walt's Working Office
Note that arm and camera were not part of Walt's original office.
A huge photo of Disneyland adorned his Working Office's wall. Walt would show off the latest and upcoming attractions to many of his visitors.
Every manuscript, document and even figurine hidden behind the curtain was meticulously put back in its place. You can even see a rotary phone in one of those photos. For all you young folk out there, that's like a smart phone without any apps and without being wireless.
I loved finding all these trophies scattered throughout Walt Disney's office. But the biggest find of all was a real shocker.
Yes, Walt Disney had his own kitchen inside his working office where meals would be prepared for him. He even whipped up a salad on occasion himself. But that's not the jaw-dropping news that was revealed to me during our tour of Walt Disney's office. Uh uh. Inside the cabinets were some of Walt's favorite foods.
Yes, you see correctly. Walt like V-8 and vegetables, but the man loved, as in LOVED, cans of SPAM. I'm floored. Honestly floored. That may be the very secret to his genius!
On the way out, we swung through a room filled with original caricatures of Walt Disney himself, from artists all around the world.
It was truly an amazing experience walking through those hallowed halls and seeing exactly how the creative genius behind Disney's success spent his days. If you somehow ever get the opportunity to tour Walt Disney's office, do not pass it up!
The Peter Pan Scavenger Hunt at the Walt Disney Studios Lot
After our tour, the physical part of our day began. We were all broken off into separate Peter Pan-themed teams for a massive scavenger hunt across the entire Walt Disney Studios lot!
I was rooting for Team Hook, and sure enough, I randomly picked the one-handed Captain. I was joined by four competitive, ready-to-win mommy bloggers for the big event.
Meet Team Hook (from left to right): Olivia (This N That with Olivia), Laura (Food Fun Family), Melissa (A Sparkle of Genius), Me and LaToyia (Motivated Mom).
The way the scavenger hunt was set up was that each team had a team leader (one of the organizers, to help keep us on track). They gave each team a treasure map of the Walt Disney Studios Lot and a rolled up piece of parchment. That was our first clue.
When the game officially started we could open the first clue and then race around the entire Walt Disney Studios Lot to find the answer to the clue. At that point we would either capture a small prize (like fairy dust in a small bottle) or have our Team Leader take a photo as proof.
When we solved the first clue, we would get the second clue and so on. Points were awarded for each successful solution, and there were even bonus points available. You could find Peter Pan's shadow hidden five times throughout the Lot, jump on another team's shadow to capture their shadow, take a variety of fun photos and find a rainbow of colors.
Our first clue brought us alllll the way to the other end of the Walt Disney Studios Lot. Did I mention it was pretty hot out? We had to find the giant Mickey's Apprentice sorcerer's hat. Once we realized it was at the Walt Disney Animation Building, we ran through the back lots, over the small bridge and made it.
As a bonus, we took our team photo in the same pose as Peter Pan's Lost Boys!
Continuing on, we raced around to find one of the studios, where we all struck our best Peter Pan poses.
Next up was finding our way to the wardrobe department where we all got to pick one prop to bring back with us. Naturally we all grabbed a hook! (Which proved to be challenging since the hook part kept sliding out and you try writing things down with a hook on your hand…)
Trivia time proved easy for the bulk of our team. I probably would have scored a 0, however, proving that it's been way too long since I watched Peter Pan! These guys knew everything though from London landmarks to the name of the Darling Family's dog. (It's Nana, in case you forgot.)
Speaking of Nana, one of the clues had us find the dog's favorite spot on the Walt Disney Studio Lot. We found the hydrant and did our best impression of the Saint Bernard.
After finding some pixie dust in a tiny little bottle, we posed for a team photo. (And to catch our breath.)
I impressed myself with this one. The clue was to visit the Disney Legends pavilion, where tributes to famous Disney folks line two separate rows of columns, and find the plaque for the actress behind Wendy's voice. From our tour of Walt Disney's office earlier that day, I recalled that woman being Kathryn Beaumont. Score one for listening comprehension!
A quick run up and down the row and I quickly found Katherine's plaque.
The final clue of the day led us to the infamous ring toss game. I had probably a dozen or so rings of various sizes to toss onto a small board with pegs on it. Nobody else on Team Hook wanted to screw it up, so they left it to me to miss. I actually scored a ring early on but then only managed to get one more. Two whole rings, that was all I could muster.
We were told that it was more than the previous teams had gotten, so maybe we still had a shot after all! We gathered our things and returned to the beginning to hand in all of the items and photos we had collected. Then it was off to lunch while the scores were tallied.
That afternoon, before we interviewed Deric McCabe from A Wrinkle in Time (post coming next week!), the Scavenger Hunt scores were revealed. We knew we had a shot at #1 or #2 but we weren't sure where we'd end up. The winning team was finally announced and it was…
Team Hook!!!!
Yes, we won! Even Deric had to ham it up for a winning team photo. While we all won a treasure chest of awesomeness, our fearless Team Leader took home a stuffed Nana doll.
What was in that treasure chest? All sorts of gems and coins. A pirate's bounty for sure. But what's that beneath all the booty?
Why only a brand-new Apple TV 4k! We were all more than a bit floored that we had pulled off the win. Tink certainly had our backs it seemed. We brushed the pixie dust out of our hair and settled into our seats for the next part of our adventure.
Any day that starts with a private tour of Walt Disney's office and ends with an exhausting-but-fun scavenger hunt around the entire Walt Disney Studios lot is a crazy special one. Toss in a fantastic prize and you can see why we all had such a magical time.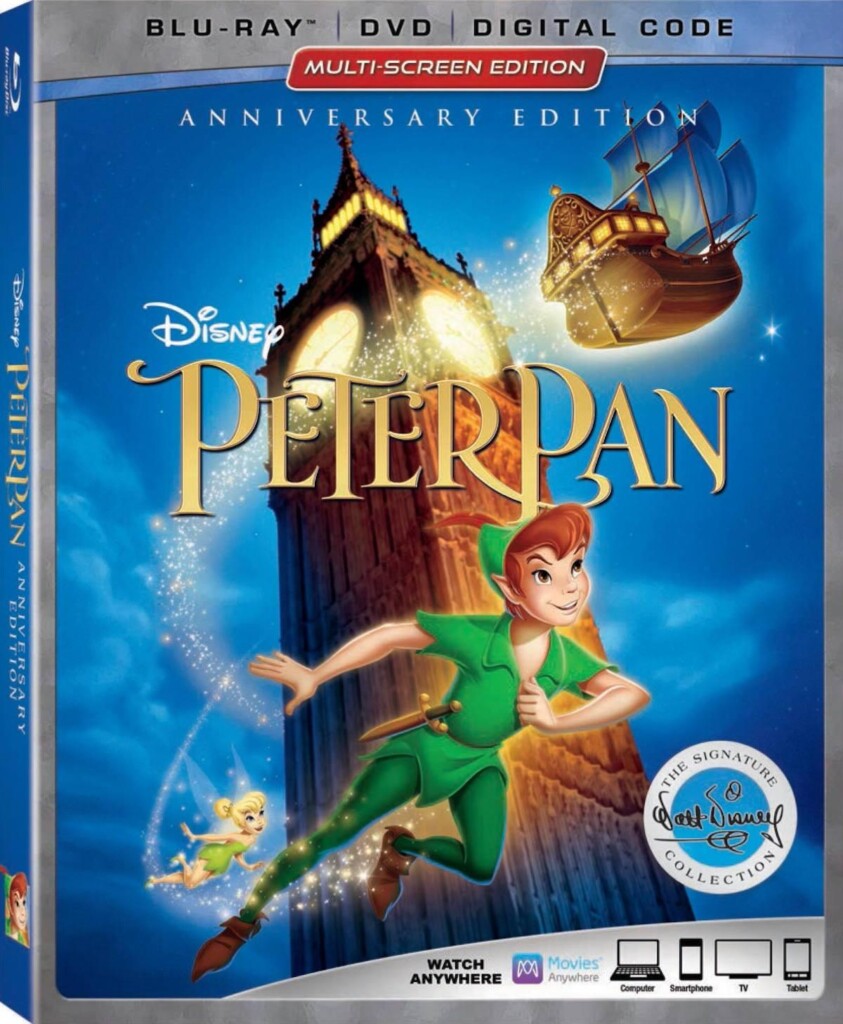 Peter Pan's Anniversary Edition Bluray
flies onto shelves June 5
#PeterPanBluray