You all know the story. You can buy your kids a zillion stuffed animals, action figures, video games, motorized scooters, you name it, and sure they'll love them all. But what's their favorite toy right now? Yeah, that giant cardboard box that your new refrigerator was delivered in.
Kids love using their imagination and they should, because they're darn good at it. In fact, more adults need to tap into that free-spirited creativity.
Thankfully some of them have. And they were smart enough to put together a wonderful company called My Pretend Place.
The perfect mix of crafts, recipes, activites and dress-up fun, My Pretend Place's strength is more in what it lacks (no batteries necessary!) than what it offers. MyPretendPlace.com sells themed costumes, books, and games, but they're all carefully crafted into perfect themes. The site is lets you shop by theme or category to narrow down your search.
Looking to put something together for your little Princess? Visit the Princess Store and you'll find pretend cardboard castles to color and play in, as well as dresses, headbands, tiaras, mirrors, stamp sets, etc.
But My Pretend Place goes a few steps further than that. Sure the costumes, games and accessories are all amazing and help get kids' imaginations running wild, but The Playroom area offers loads more free fun. From How to Make: Bow & Arrow (a Princess needs to defend herself after all!) to these insanely adorable (and edible!) Princess Tea Cups, there are loads of Princess-themes activities and crafts to choose from!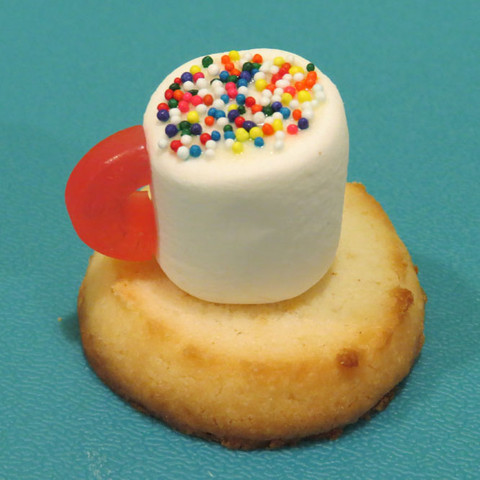 I seriously love the truly creative ideas for all the different themes in The Playroom. As for the products you can buy on My Pretend Place, they are certainly a refreshing and adorable change.
I was sent an Astronaut-Themed package for review and it's actually pretty impressive. The coolest thing is that it included a wide variety of space-filled fun for kids.
Included in my "Space Case" was a really cute Astronaut space suit, a hardcover Astronaut Handbook, a space-themed Peel & Press sticker set from Melissa & Doug, and a couple of packages of Astronaut Ice Cream!
The box also included a sweet thank you card, along with a handle and stickers so you can decorate the shipping box everything came packaged in! Not only are you recycling (yay, environment!) but it's an incredibly neat and creative way to get kids to help organize and store their own toys.
Here's a closer look at the Astronaut Role Play Set. I wish these things came in adult sizes!
And if you're nervous about giving your kids permanent markers, or worse, paint… this Peel & Press Sticker by Number set is a wonderful alternative.
So what's over in the  Astronaut Pretend Play area of The Playroom? Glad you asked!
I totally want to make those Moon Phase Cookies with my kids! We always have a few extra bags of Oreos laying around, so this one's a no-brainer. My wife's an Earth Science Teacher too, so she was more than ecstatic to give this one a go!
And that is just a very small taste of the creativity and wonderful imagination behind My Pretend Place. If you've got little ones, definitely head on over and keep encouraging the pretending!
Follow My Pretend Place: Facebook | Twitter | Pinterest