While on our way back from a family wedding in New Haven, Connecticut, I convinced Allie to make a stop in the city of Orange. We had seen a billboard on I-95 for a PEZ Visitor Center and I was most definitely curious.
Jason LOVES PEZ. With his nut and seed allergies, it's tough finding sweets he likes but thankfully he's very into sugary (not chocolatey) candy. And PEZ is near the top of his list.
A quick search online and after reading some rave reviews, I was convinced we had to stop. So we did. Allie was up for it but not really too excited to be honest. That would all change soon. (Cue foreshadowing music!)
In the midst of a semi-residential neighborhood, you come up to the this large building. We actually thought we had the address wrong at first because it didn't look like we were even close to a major candy factory. But nope, it was right and we followed the signs right into the Visitor Center parking lot.
While Allie bought the tickets (they're roughly $5 for adults and $4 each for children, but every ticket includes a $2 coupon for the gift shop!). It's definitely worth the price of admission.
That giant PEZ-filled window above the boys? Yeah, it features 792 different PEZ dispensers.
Once inside, you're greeted by the tallest PEZ dispenser you'll ever meet. Press a button and his giant head opens and slides a PEZ candy out. Unfortunately, it's not a real candy. Luckily, though, it doesn't drop on your head.
The first thing you can do is learn the history of PEZ, which, honestly, was pretty darn interesting.
Do you know why PEZ was started? As an adult breath mint and an alternative to smoking. Definitely a plus in my book!
Now how about the name? PEZ comes from the German word for peppermint: pfefferminz. Just take the first middle and last letter and shorten it to PEZ.
On your self-guided PEZ factory tour you basically read through decade after decade of PEZ history, showing off the changes, additions and innovations that continued to roll out.
Fun facts and trivia questions keep it even more fun. Certainly a far more interesting museum to me than a boring old natural history one!
Bet you didn't know there was a PEZ-sponsored baseball team!
Anyone remember these Hulk and Spider-Man PEZ comics from decades back?
The bulk of the floor is made up of various glass cases which showcase different PEZ collections.
In one of the many Disney cases, you can see all the different Goofy PEZ dispensers and really see how the character evolved. Same with Donald Duck.
Jason's favorite was definitely the Super Mario PEZ dispensers. You can see the original ones from 1998 (That's a Koopa on the right… we think!), and then the way more stylized versions from a few years ago in Europe on the left.
I, of course, was much more interested in the different Captain America PEZ dispensers.
And then there's the slew of Star Wars PEZ collections. How cool is that metal Darth Vader head???
GAH! A giant, music-playing Death Star PEZ Dispenser!!!
They even displayed some super-limited PEZ Dispensers that were only given out as corporate gifts and such.
You also get to look in on the PEZ factory itself and see where all the sweet candy is made! This is the only factory in the United States, with just one other overseas.
Unfortunately for us, the PEZ factory tour was currently closed so we didn't get to see it in action. But there are plenty of documentary videos to watch that explain all the different machines.
One of my favorite display cases was the one right in the vault. It's a small window near the steps going upstairs, with a huge steel bank-like vault door! Inside, it shows off some of the insanely rare dispensers, like this Crystal Yoda one!
Yep, that's a limited edition Swarovski Crystal Ladybug Dispenser.
I wonder if they were going to make chicken-flavored PEZ candy for this Colonel Sanders PEZ Dispenser!
Show of hands: How many of you knew that was Mary Poppins just by looking at her?
Yeah, I thought so. Probably explains why this one is the rarest of all Disney PEZ dispensers.
Upstairs were a bunch more display cases, mainly showing off International PEZ dispensers, like this amazing Japanese ones! They're much smaller in height, but just look who they made: One Piece! Final Fantasy! Dragonball Z!
There were also loads of tables and chairs upstairs so that you can have your kid's birthday parties at the PEZ Visitor Center! I'm thinking that's the perfect spot for my 45th Birthday next June… (Hint. Hint.)
There were so many different things to see at the PEZ Visitor Center that I definitely need to head back for another go. Did you know they made Mr. Bean PEZ dispensers???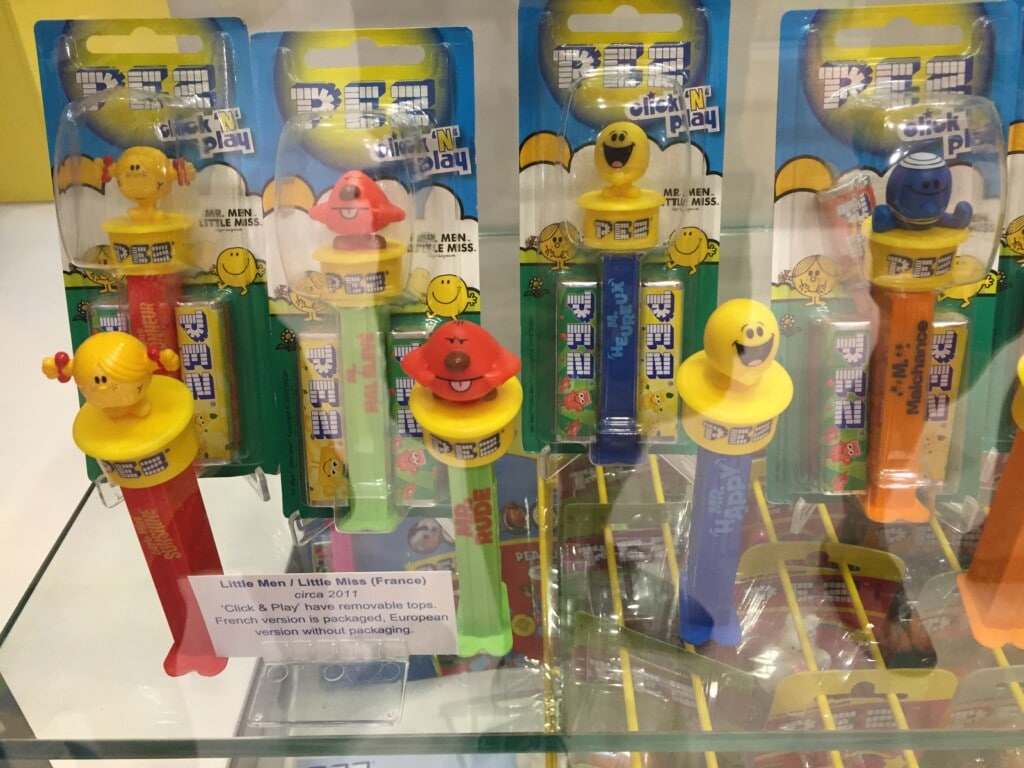 Or Mr. Men?
I even found this set of four human PEZ dispensers!
Eerily lifelike, right?
I don't know how big this was, but the largest PEZ candy was even bigger than an average brick! I'd love to see the dispenser for this bad boy!
I have no idea who Mr. Ugly is, but he certainly lives up to his name.
And those are just a few of the zillions of items you can see on display during a PEZ factory tour.
But then… there's the gift shop! The coolest part being the "pick your own PEZ" section. For just $5.99, you can mix and match all the different flavors into a cute PEZ bucket. We let Jason go to town with it and I think he's still coming down from his sugar high!
The two flavors Allie and I were most curious about were the PEZ Chocolate and PEZ Cola. Let me tell you… they both taste exactly as you think they would. It's crazy how a candy can test like a can of soda!
How could I not pick up a special Captain America (with spinning shield!) and Iron Man (with light-up eyes!) PEZ set? I get to continue the Civil War fun, candy style!
You can also buy loads of individual PEZ dispensers, as well as PEZ-themed T-shirts, hoodies, puzzles, keychains and more. The boys snatched up a few goodies and even won a free PEZ dispenser for successfully completing a scavenger hunt! (They had to find all Seven Dwarfs PEZ dispensers in the Museum and spell out a secret code!)
Even if you're not a PEZhead (that's a serious PEZ dispenser collector!), just about everyone should swing by the PEZ Visitor Center. We all ended up having a blast and now can't wait to expand our PEZ dispenser army!
Learn more about the PEZ Factory