Make no mistake. This is war.
Tony Stark started it after being a big fat jerk in Avengers: Age of Ultron and you better believe Captain America is going to finish it.
Yep, the entire Marvel Cinematic Universe is at war this summer when Captain America faces off against Iron Man in Captain America: Civil War, with the rest of the superheroes choosing up sides. It's glorious freedom versus corporate stooges.
Clearly, I'm on #TeamCap. Or as I like to call them, "The Good Guys." I know a lot of people, however who are choosing the evil side. Like my so-called blogging bud Drew Bennet who worships the ground Iron Man jet propels over.
Well, the big fight (and the movie) may not hit until this summer, but the initial skirmishes have begun! After a quick trip to Target, Allie brought me home the greatest breakfast treat since sliced bread: Captain America: Civil War cereal.
You read that right. Captain America cereal! I clearly had to serve some up pronto! So I dressed for work and poured myself a bowl!
For those keeping score at home, that's 1 cereal for Captain America and 0 cereals for Iron Man.
It's your typical standard cereal with "red and blue shield marshmallows." How's it taste, you ask? Well, to me, it tastes like freedom.
Sugary sweet and full of glorious patriotism, I enjoyed the Captain America cereal. That is… until I turned the box around.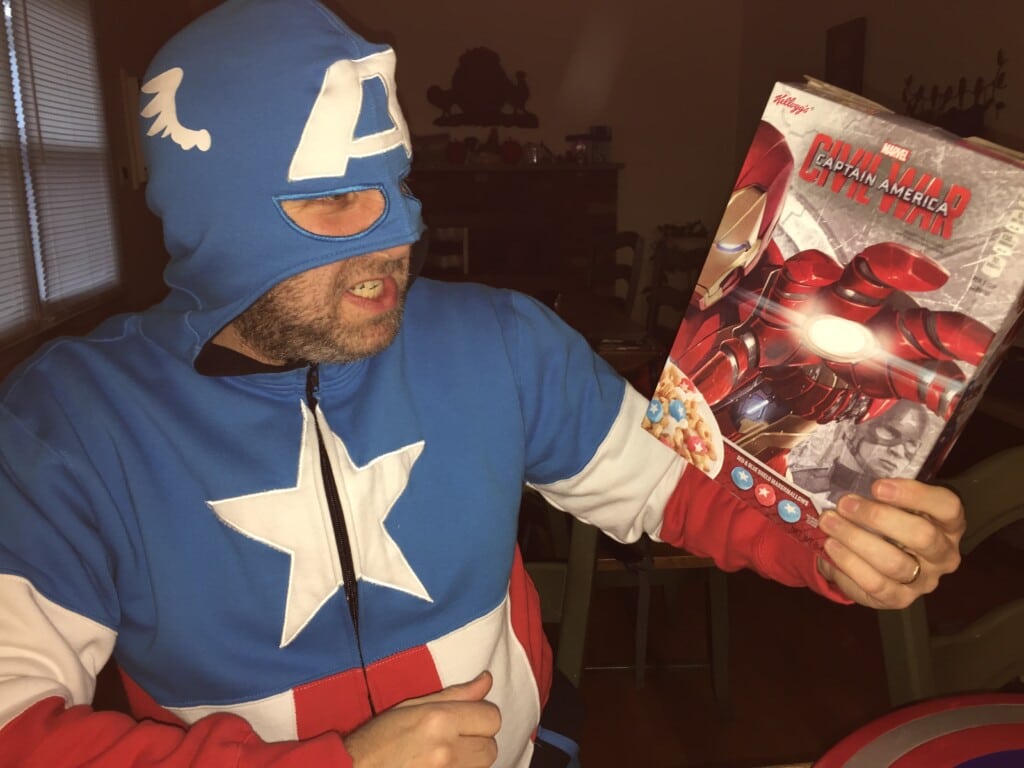 Yeah, for some reason, the folks at Kellogg's decided to put Iron Man's pic on the other side of the box. This Civil War just became a Civil Cereal War!
No worries, though. If I know Cap, he'll come through in flying colors. (Red, white and blue to be exact.) In fact, I'm pretty sure you could say Captain America eats Iron Mans for breakfast.
Which side are you on?
#TeamCap #TeamIronMan
Captain America: Civil War
Fighting its way into theaters on May 6, 2016